Can the average person really make money online? The answer is a resounding, yes! Thousands of people just like you make money online every day by completing a wide variety of freelance or outsourced tasks. Some people even make a decent full-time living working online. 
Depending on your skills and the amount of time you have, there are dozens of ways that you can make online money for free. Surprisingly, it's not as hard as many people think. Here are ten ideas to get you started. 
1. Penny for Your Thoughts
 You have likely heard the expression that "everyone has an opinion, but not everyone's opinion is of equal value." While some people might not care to hear your thoughts and ideas, there are businesses out there that actually would. Furthermore, they will even reward you for sharing your opinions online. 
For example, you can earn extra cash online by completing paid surveys or participating in consumer focus groups. Brands are interested in finding out what consumers think about their products or services. They contract with market research firms to gather all that data. To attract participants, these studies almost always offer an incentive – either money or gift cards. While online surveys won't make you rich, you can earn a little bit to help you afford the extras in life. 
2. Test Apps and Websites
 If you like the idea of getting paid to share your thoughts, you can also make money online by testing websites and apps. Developers want to find out how user-friendly their apps and websites are before releasing them to the public. That way, they can make any necessary improvements before they launch them. Furthermore, developers want to find out if there are any bugs in their software so that the experts can fix them.
How do you find user testing sites? Sign up for forums and social media groups that talk about making money online. In fact, this is a handy way of finding all sorts of online work opportunities you might never have considered. 
3. Sell Your Photos Online
Whether you are a budding photographer or a seasoned expert, you might be surprised to learn that even the most mundane photo could be in high demand. Stock photography websites like Shutterstock, iStock Photo, and Getty Images have vast catalogs of photographs covering every possible topic and subject you can imagine, and most of them come from regular photographers like you.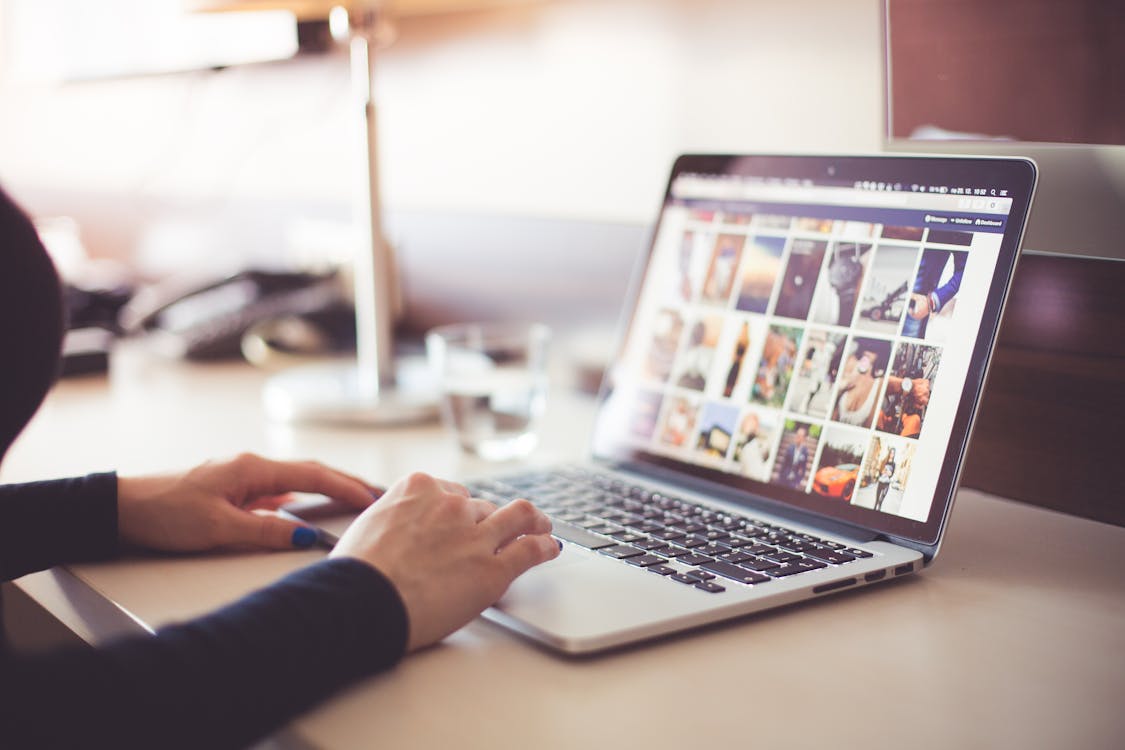 Content providers, magazine editors, designers, and other customers purchase these pictures to use on their blogs, magazines, ads, and websites. While some sites will buy your photos outright, others will offer royalties, which means you can get paid for your pictures over and over. 
4. Become an English Tutor
If English is your native language, you already have the number one skill needed for a fun online job. There are dozens of organizations looking for people to help non-English speakers learn the language. While some of these positions require teaching credentials, others do not. Search online for "how to become an online English tutor" to find many potential gigs in this niche.
5. Transcribe Video and Audio Content
If you are a fast typist, transcription could be a great side gig for you. With transcribing, you use a set of headphones to listen to an audio file and type out what you hear. This is then used for closed-captioning. You get paid by the audio hour with transcription jobs, so the pay is definitely related to how fast you can type. Naturally, your speed will improve as you gain more experience. Searching for transcription jobs online is the best way to find this type of work.
6. Write a Book
Do you have a story inside of you just waiting to come out? There has never been a better time to publish your own writings. There are hundreds of online videos, websites, and tutorials that will teach you how to write a book. Using easy publishing platforms like Kindle Direct Publishing (Amazon) or CreateSpace, you can be on your way to becoming a best-selling author (or at least get your foot in the door) with very little investment. 
7. Start Your Own YouTube Channel
Look, even seven-year-old kids are making money on YouTube. If a kid can do it, so can you. Take a few free YouTube courses on a site like Udemy or Skillshare and learn how to generate income by doing something you genuinely enjoy. 
Ultimately, it would help if you focused on a topic that you know a lot about and where you can build a loyal following. Once you have enough subscribers, you can monetize your channel and start making money off ads. 
8. Review Music
Did you know you can also earn cash online by rating songs for record labels and streaming music sites? While paid music reviewing gigs aren't as plentiful as online surveys, they could be a great way to generate some spare cash if you love music. Sites like Music Exray and Hit Predictor are good places to start. 
9. Sell Your Old Craft Supplies
We've talked about selling your crafts online before, and it's an excellent idea. Some people make a full-time income offering their creations for sale. But if you're like at least a couple of us, you have a few boxes full of awesome arts and crafts supplies that never materialized into that terrific project you were planning.
Stop feeling guilty for not being more crafty and get rid of that stuff! Many people would be overjoyed to purchase your patterns, paints, scrapbooking paper, pipe cleaners, fabric, and whatever else you dragged home in a moment of inspiration. You can offer them at discounted rates on Etsy or Ebay. Not only will you add some cash to your wallet, but you'll also clear up some space for other hobbies and interests. 
10. Hire Yourself Out as a Virtual Assistant
The pandemic has brought many businesses online much faster than expected, which means the demand for VAs (virtual assistants) is exploding. What does a VA do? Just about anything an in-person assistant would do. You might help with record-keeping, social media posts, bookkeeping, order processing, customer relations, or any number of business-related tasks. The trick is to find a position that will capture your interest. The more internet savvy you are, the better your chances will be at landing a great role. 
To find a virtual assistant job, check online job boards, or join VA groups on social media. If you need to brush up on your administrative skills, there are plenty of free online classes to help you beef up your resume. 
Final Thoughts
 If any of these gigs sounds like an interesting way to make money online, like taking surveys for money… you can learn more about them by just doing a quick internet search. Make sure you do a bit of research to find legit opportunities that will actually pay you for your time and effort. Here are a few tips on avoiding Internet scams:
Never pay to register for a site claiming to offer work.

Legit sites

pay you to work for them, not the other way around.

If an opportunity sounds too good to be true, then it probably is.

Look for reviews from other users to avoid fraudsters.
Best of luck in your search for online earning opportunities!