All of us have used Groupon at least once, probably for a random restaurant deal or upcoming event. However, was it a good enough experience that you used it again?
Personally, I know there are times I've missed a line in the fine print or realized an expiration date snuck up on me. These are silly details I let myself lose money on, which led me to not use the site many times again…until I learned how to use Groupon at its best that is. 
Here are the best ways to maximize savings on Groupons.
Sell Unused Groupon Vouchers
Let's say you love good lasagne and buy a voucher for an Italian restaurant. However, after you realize you'll be traveling a lot and won't be in town. Instead of simply letting the voucher expire, sell it online to a daily deal market platform, like CoupFlip. In most major cities in the USA, you can buy deals and sell deals in a simple process. Here's what you do:
Copy the URL from your deal and paste it into the form.

Right there and then, you'll receive a buyback offer.
And hey, while you're on the site, you may see a deal you want to buy yourself!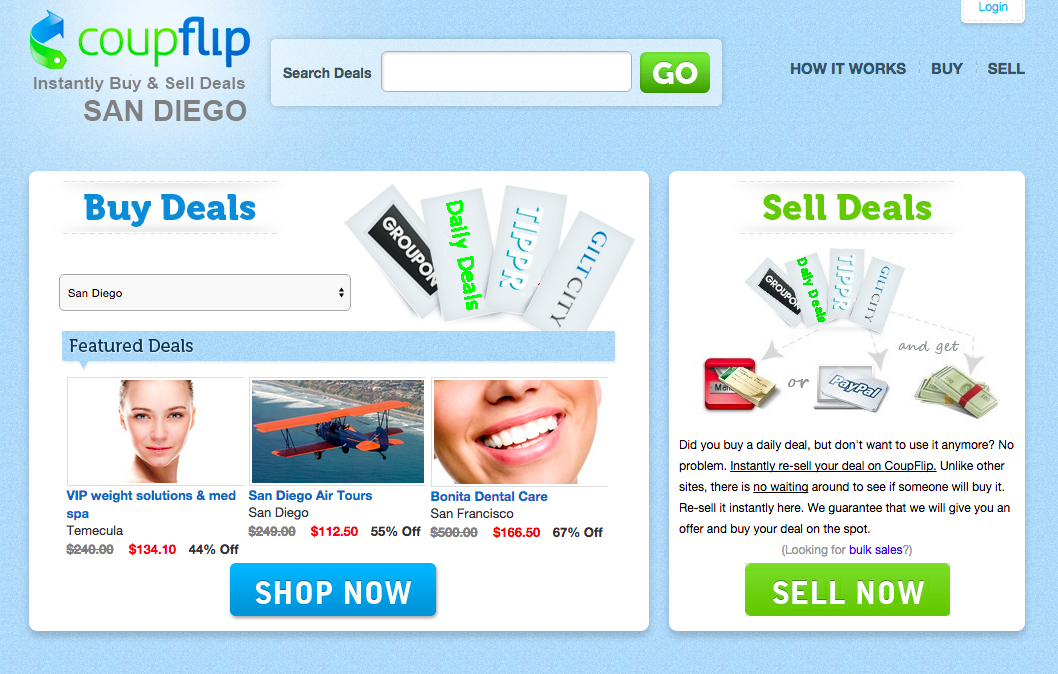 Get Social with Groupon
With so many sites we are constantly checking and exploring, it's understandable that we are not on Groupon every week. However, if you're anything like me, you're on Facebook at least once a day. Groupon's Facebook does a great job of sharing new and popular deals. By following Groupon on Facebook, deals that may be a great fit will show up right in your news feed.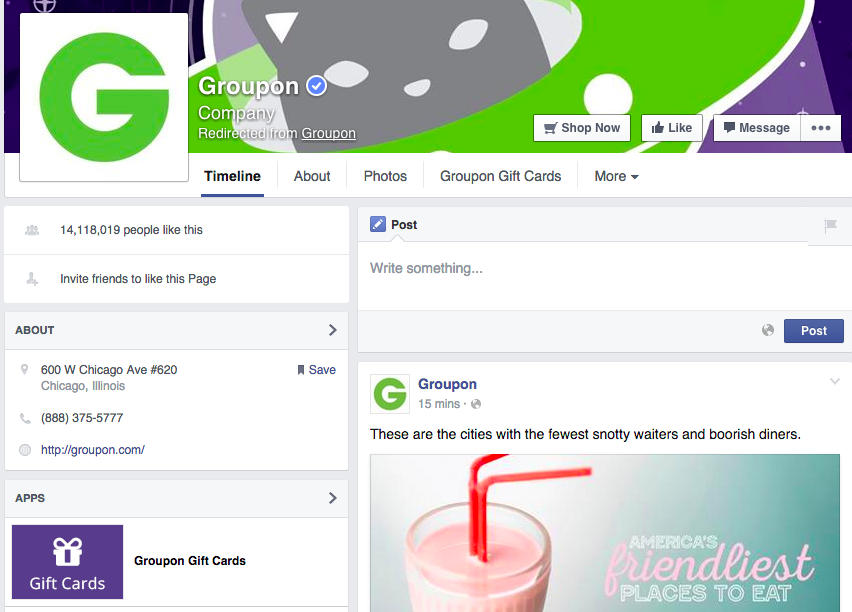 Or hey, if you check Branded Surveys each week to read the latest blogs? Pop over to our Deals section while you're here. We feature Groupon offers right in our Local Deals section!
Don't Limit Your City Search: Look at Nearby Towns & Attractions
If you've programmed your own zip code and city in, that's great. However, you might want to look at cities farther from your own. An hour away, there may be a mind-blowing deal on a hot air balloon ride or concert. And, if you're driving a few hours to a major theme park anyhow, definitely make sure to go on Groupon first. You could save a seriously good chunk of change.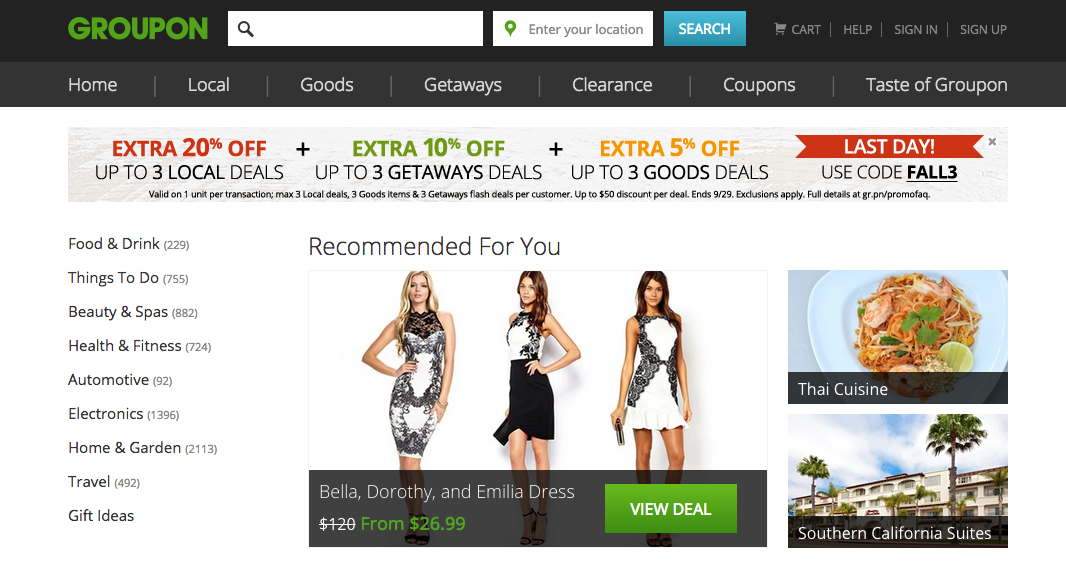 Be Highly Mindful of Groupon Redeeming Details & Expiration Dates
Certain Groupons can be difficult to redeem, so buying them is leading you into failure. For example, I once purchased a Groupon for a murder mystery dinner theater. I was really looking forward to redeeming my two tickets, which had an expiration date until I looked on their site and saw they were sold out through that expiration date.
With this in mind, just make sure to check out the event, product or service website first before buying. If you see that everything is sold out? You just saved yourself buying a Groupon deal that wouldn't have been possible.
Refer Your Friends for Dollars
Once you start seeing these saving tips kick into you gear, you may have so much enthusiasm for Groupon that you can't help but share it with the world. For each friend you refer? As long as they spend $10 or more in the first three days, you receive $10. If you refer 4 friends, that's already an extra $40 in your wallet.  
Get Cash Back By Shopping Groupon
Did you know your credit card may partner with Groupon? Use it or your favorite cashback site to get dollars back on each purchase you make with Groupon. For example, I like to use BeFrugal.com, which often offers great percentages on purchasing Groupon deals.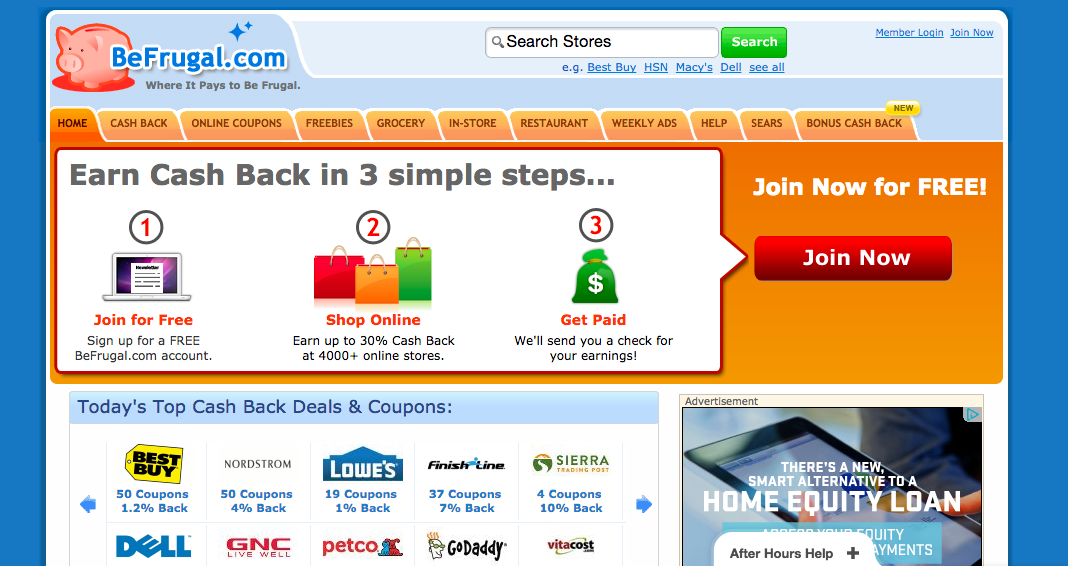 Personalize Your Groupon to Show it What You Like
The same way you watch your friends shop or order to see what they like, teach Groupon what you like by categorizing your deals into their proper genres. By adding certain restaurants, shops and such into "favorite" categories, Groupon will do a better job of guiding you to the deals that fit your lifestyle. I love water activities such as snorkeling and jet-skiing, so if an amazing deal for scuba diving certification pops up? It's going to be an easy purchase decision I'll be excited about.  
Try Hopping on Groupon More Often
The more time you spend on Groupon, the better feel and understanding you'll have for it. You'll come to see which deals pop up often versus the rare ones that are truly good specials. For example, I jumped on a deal for a Mexican restaurant near my home, thinking it'd save me money. When I arrived, I realized that the food was so reasonably priced, I had to spend more than I would normally have just to hit that amount I needed for the discount. When each burrito was only $7, I had to buy two drinks just to reach that $21 mark!
Groupon is an amazing choice, but so are Amazon gift cards. Amazon sells a wide variety of goods, from pantry items to luxury items. Consider taking surveys for Amazon gift cards on your spare time.